National Workplace Learning (NWpL) Certification
Find out more about the inaugural National Workplace Learning Certification Awards that were conferred on 26 April 2022 to nine organisations.
Find out more about Singapore's first National Workplace Learning Certification that was launched on 6 May 2021 to enhance business transformation.
The National Workplace Learning Certification recognises exemplary Singapore-based organisations that implement continuous learning through Workplace Learning practices and capabilities.
Progressive and business-forward organisations that have implemented systems and processes that enable good practices for learning at the workplace are recognised in this certification. Employees also benefit because training is deliberate and planned. Together, the organisations and its employees can face the challenges of tomorrow.
NACE, in partnership with Singaporean-German Chamber of Industry and Commerce (SGC) are leading the assessment of organisations for the certification process, based on the National Workplace Learning Framework.
An Award Committee led by industry leaders is set up to review and approve the assessment recommendations from NACE and SGC.
Organisations that have completed the assessment may be eligible for one of the four certification levels: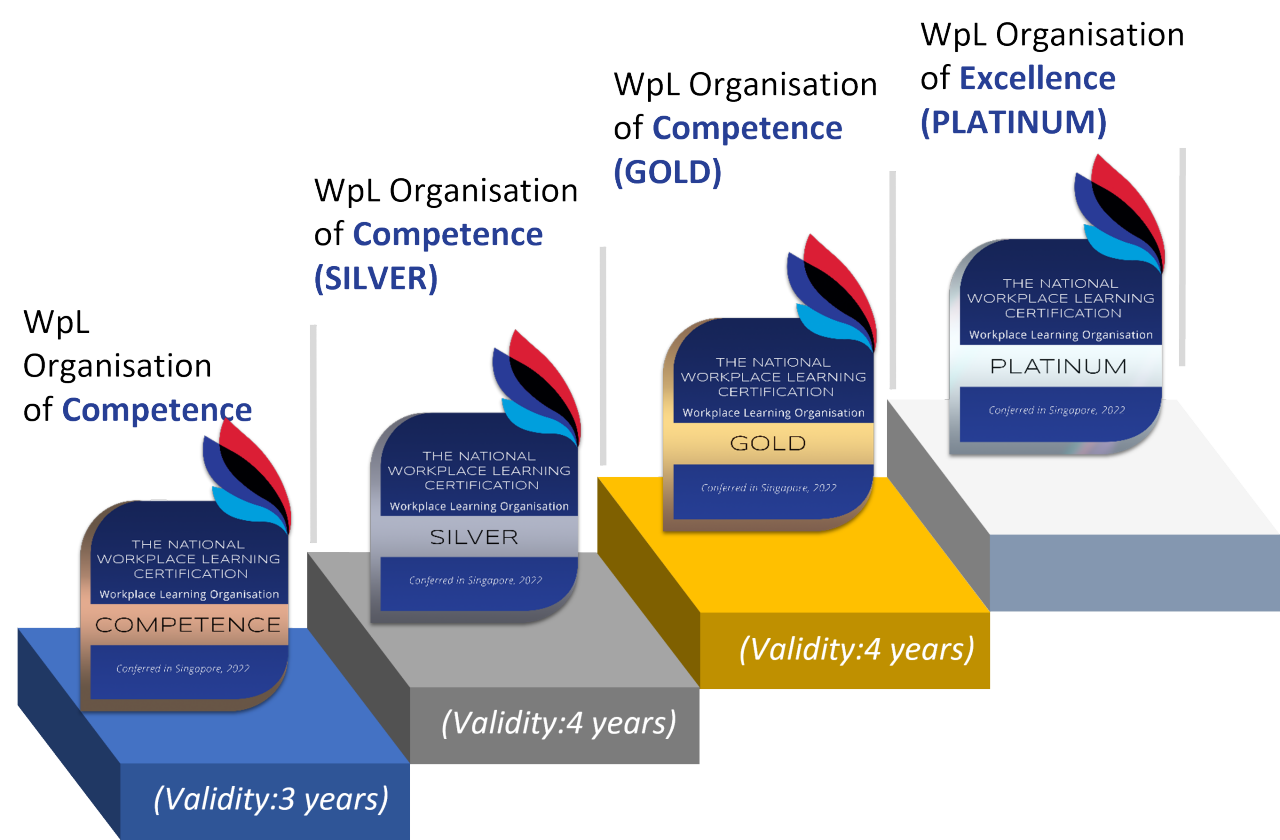 Workplace Learning Organisation of Competence
Workplace Learning Organisation of Competence (Silver)
Workplace Learning Organisation of Competence (Gold)
Workplace Learning Organisation of Excellence (Platinum)
Organisations that receive the certification will also stand to gain from the following benefits:
• Approval for organisations to hire up to 5% of S-Pass and Work Permit holders (based on organisation headcount) capped at 50 persons under the Manpower for Strategic Economic Priorities (M-SEP) scheme, for organisations awarded the NWpL Certification Organisation of Competence (GOLD) and Organisation of Excellence (PLATINUM), with adherence to other conditions.
• Use of the NWpL Certification logo to signify being an Employer of Choice for Singapore's brand of national certification that recognises organisations with excellent and progressive workplace learning cultures.
• Nominations for the tripartite Human Capital Partnership (HCP) Programme, which accords organisations with faster response and higher service standards from a dedicated hotline for transactions with the Ministry of Manpower.
• Nominations for the SkillsFuture Employer Award conferred by Skillsfuture Singapore.
• Invitations to leaders in organisations awarded the NWpL Certification to join exclusive events held for Community of Practice (COP) for Senior Leaders, to enhance learning and networking opportunities.